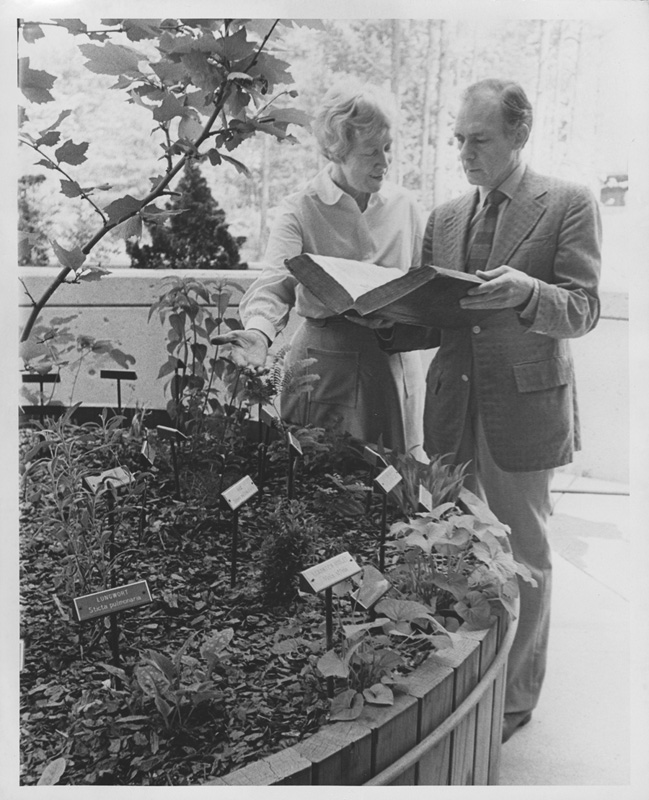 We are happy to announce that our new exhibit, "The Medical Garden," is now on display at the Medical Center Library. Highlighting herbs and flowers from the Library's medical garden, the exhibit features plant specimens, botanical illustrations, and archival materials. Items from the DUMC Archives on display include Wilburt Davison's botany notebook from his undergraduate days at Princeton and materials on poisonous plants from the Jay Arena Papers.
The idea for a medical garden was first suggested by Susan Carlton Smith Cavanagh, the Assistant Curator of the Trent Collection, who also worked as a botanical illustrator. In 1976, she and the Curator of the Trent Collection, G.S.T. Cavanagh, put out the first plantings on the Mudd building's northwest terrace. (To the right is a photo of the two in the garden, circa 1978.) As of 2014, the garden features 45 different plants on the terrace as well as at the Library and Searle Center entrances.
The Medical Center Library's garden emphasizes the close ties between botany and medicine, and provides students and scholars with an introduction to the importance of plants to medicine. To learn more about the garden and its plants, come see the "The Medical Garden" exhibit on Level 1 of the Library through the end of May 2014. Visitors are also welcome to view the garden on the Library's northwest terrace.