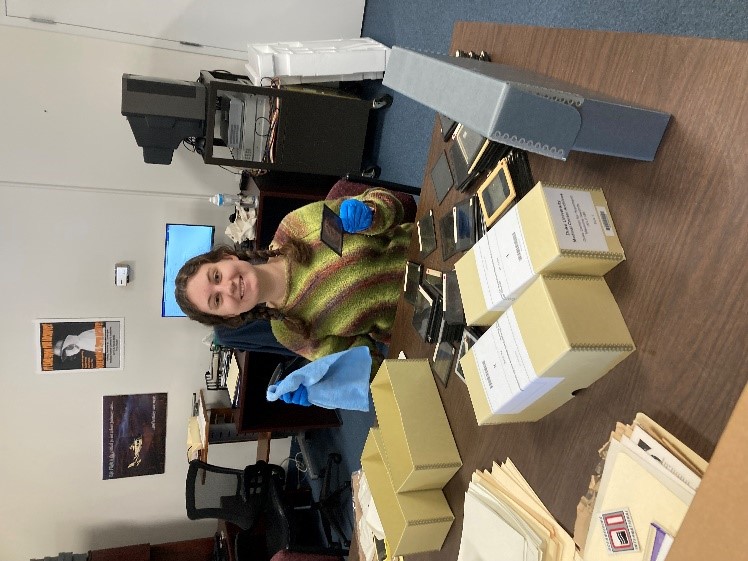 Emma Eubank joined the Archives staff as an Intern in August 2023. During her internship at the Medical Center Archives, Emma will process archival collections, write archival descriptions, create finding aids, and assist with acquisitions. Her first project is to process the Duke Center for Hyperbaric Medicine and Environmental Physiology Records to make the collection available to researchers. 
Emma earned a BA in Anthropology and Medieval & Renaissance Studies from William & Mary in 2022. She is now in the dual degree program between the North Carolina State University and the University of North Carolina at Chapel Hill working towards a MA in Public History from NCSU and a MSLS with a Concentration in Archives and Records Management from the UNC-CH. She expects to graduate in 2025.
Emma sees her internship as a way to gain hands-on experience in an archival repository to complement her theoretical coursework. For example, this semester she is taking a Digital Preservation and Access course and is looking forward learning the Medical Center Archives' born-digital processing workflow, which will allow her to gain much needed practical experience in this area of archival processing.
When Emma is not at work or studying, she enjoys listening to New York Times podcasts, cross stitching, and perfecting her chocolate chip cookie recipe.

This blog post was contributed by Medical Center Archives Assistant Director Lucy Waldrop.