The Medical Center Archives is happy to announce the addition of the following student groups to its collections' holdings:

The American Medical Women's Association (AMWA), founded in 1915, is an organization which functions at the local, national, and international level to advocate for the advancement of women in medicine and for the improvement of women's health. Contains records pertaining to the operations of the Duke Chapter of the AMWA. Materials date from 2019 to 2020
The Duke chapter of the national Asian Pacific American Medical Students Association (APAMSA) is a student-run organization dedicated to learning about, promoting awareness of, and improving Asian-American health issues. Since 2005, the Duke APAMSA chapter has been engaged in community outreach including holding service activities, foreign-language health education, and pursuing other avenues of cultural discovery. Contains materials from the Duke Chapter of APAMSA documenting activities in which APAMSA is involved. MAterials date from 2019 to 2020.

The Student National Medical Association (SNMA) is an entirely student run organization for medical students of color that focuses on supporting minority medical students and their endeavors around the country. The Duke Chapter of the SNMA is a chapter within the larger organization of SNMA. The collection contains the June 10, 2020 letter written by the Duke Chapter of the SNMA and sent to the Duke University School of Medicine administration and faculty. The Duke Chapter of the SNMA wrote the letter to initiate a dialogue about how to be an anti-racist institution after the murders of George Floyd, Ahmaud Arbery, Breonna Taylor, and Tony McDade. Materials date to 2020.
White Coats for Black Lives (WC4BL) is a national organization born out of the National White Coat Die-In demonstrations that took place on December 10, 2014. The group's mission is to dismantle racism in medicine and promote the health, well-being, and self-determination of people of color. The Duke Chapter of WC4BL was founded in the fall of 2020 and is active on Duke's campus. This collection contains materials from the Duke Chapter of WC4BL documenting their founding, meetings, executive board, programming, and the Racial Justice Report Card. Materials date from 2020 to 2021.
The Latino Medical Student Association (LMSA) is an organization founded to represent, support, educate, and unify US Latinx medical students. The LMSA holds volunteer events for the community, high school students, and Duke undergraduates. The Duke Med Chapter of the LMSA student group has been continuously active since 2009 with faculty advisor, Dr. Leonor Corsino. The records include files documenting activities, meetings, volunteering, and other materials created by the Duke Med Chapter of the LSMA. Materials date from 2013 to 2020.
Duke Med Interfaith (DMI) was founded after a student recognized the need for a safe space for students to meditate or pray while in medical school. DMI was recognized in January 2017 by the School of Medicine and the Graduate Professional School Council as an affinity group. The group saw a need for spaces, conversations, and education around spirituality as it pertains to health care, including understanding religious traditions of colleagues, as well as patients under their care. Membership is open to all graduate and professional schools at Duke. DMI primarily hosts two types of events: social and educational. The records include files documenting DMI's newsletter, advertising, group constitution, and images and video clips of DMI celebrating religious holidays from different faith traditions. Materials date from 2016 to 2020.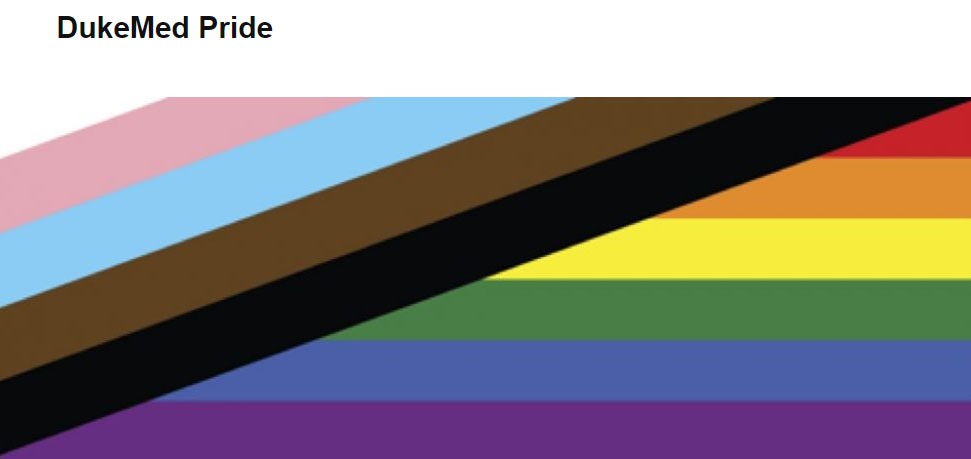 Duke Med Pride is a student-led group consisting of LGBTQIA+ and allied students within the Duke University School of Medicine (DUSOM). Duke Med Pride works to address the health issues of sexual and gender diverse peoples with a cohesive and holistic approach. Contains materials from the Duke Med Pride student group documenting their newsletter, programing, and events. Materials date from 2019 to 2021.

Duke Med for Social Justice (DMSJ), a Duke University School of Medicine student group, was created in 2017. The group is comprised of medical students interested in promoting social justice and racial equity within the Durham and Duke communities through action, education, and dialogue. Contains materials from DMSJ documenting the student group's activities. Materials date from circa 2017 to 2020.
Student groups are an integral part of the university experience providing an essential link between student interests, professional practices, and activism. If you are a member of a student group, please
contact the Archives
about adding your groups' records to our holdings. 
For more about the Archives' holdings, select
Collections Listing
to view all of our collections.
This blog was contributed by Archives Technical Services Head Lucy Waldrop.