This is the first blog post in a three part series about Dr. Jay M. Arena, a preeminent physician in the field of pediatrics and toxicology. During his career, Arena published approximately 300 articles and pamphlets on poisoning and a variety of pediatric subjects, as well as authoring, coauthoring, and editing numerous books on child safety and poisoning. In addition to writing, Arena also served on the editorial board of numerous publications, was appointed to and served with various government agencies, and served as an advisor on the Committee on Safety for Children and the United States Project Safety Commission. As an advisory expert on the Accidents and Poison Panel of the International Pediatric Association, Arena frequently gave expert witness testimony in cases of accidental poisoning, prescription medication problems, and corporate responsibility in poisoning cases.
Without a doubt, the Jay M. Arena Papers have much to contribute to the history of medicine, so when the Medical Center Archives reviewed its processed collections to identify collections in need of improved arrangement, more detailed description, and preservation in order to improve access, the papers of Jay Morris Arena (1909-1996) were at the top of this list. The Archives are pleased to announce the completion of the Jay M. Arena Papers. The bulk of the collection pertains to Arena's decades long career at Duke University School of Medicine and contains administrative records for the American Academy of Pediatrics, American Medical Association, American Association of Poison Control Centers, and Duke Poison Control Center. Also included is correspondence, subject files, publications, reprints, manuscript materials, photographic materials, biographical materials, and other records documenting Arena's medical career. The collection is 29 linear feet, and the materials range in date from 1931-1995.
The records in this collection document Arena's involvement with the poison control movement; Arena is credited with beginning the first poison control movement in the United States, and his efforts led to the creation of the American Association of Poison Control Centers and the Duke Poison Control Center. In addition to the development of poison control centers, the introduction of childproof safety caps for medicine bottles in the 1950s is a direct result of Arena's efforts to persuade drug companies to manufacture and include them on their medicine bottles. Furthermore, Arena's efforts also brought about a reduction in the strength of aspirin, as well as the number of tablets per bottle. By the 1980s, these changes resulted in a reduction of incidences of aspirin poisoning in children from twenty-five percent to less than five percent of all poisoning cases.
Arena was born in Clarksburg, West Virginia, in 1909 and received his BA from West Virginia University (1930) and his MD from Duke University School of Medicine (1932). After residency and a short stint at Vanderbilt University as an instructor in pediatrics, Arena returned to Duke University School of Medicine as a professor of pediatrics. Arena retired from Duke University in 1979. The Jay Arena Fund in Pediatric Pharmacology and Toxicology was established in his honor. He was married to Pauline (Polly)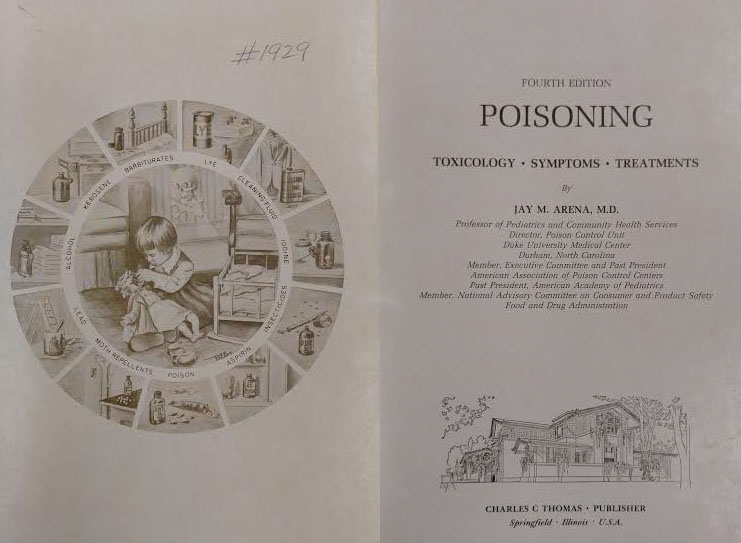 Elizabeth Monteith. Together they had seven children. Arena died in 1996. 
The next two blog posts about Arena will focus on his historic 1974 trip to China as part of the American Medical Association delegation and his close friendship with advice columnist Ann Landers. These blog posts only begin to scratch the surface of this rich collection. To learn more about these materials, visit the finding aid or contact the archives staff.