The Medical Center Archives is happy to announce that new additions to the George L. Maddox Papers are open for research. This collection contains the personal and professional papers of George L. Maddox, a former director of the Duke University Center for the Study of Aging and Human Development.

Over the course of his career, Maddox was a major figure in the push to improve health care and the quality of life for older adults in the United States. While at Duke, he was not only the director of the Center for the Study of Aging and Human Development, but also the program director for the Center's Long Term Care Resources Program (LTRCP). This program was focused on providing funds to projects dedicated to the long term care and assistance of senior citizens. Outside of Duke, Maddox was a leader in senior health care on the national stage as well. He consulted on numerous pieces of state and national legislation regarding elder care, served as both the president of the Gerontological Society of America and the secretary general of the International Association of Gerontology, and he helped to found the National Advisory Council for the National Institute on Aging. He even assisted with the administration of the Community Partnerships for Older Adults (CPOA) program. CPOA was a national grant program dedicated to supporting local projects that focused on supporting vulnerable older adults and their caregivers.

Maddox's years of service didn't end with his retirement in 1995. He continued to be actively engaged in aging and elder care policy research until shortly before his death in 2012. He also became deeply involved in outreach in the local Durham Community, working with the Duke-Durham Neighborhood Partnership and acting as one of the founding members of the Duke University Retiree Outreach (DURO) organization. In 2005, Duke University honored this service by awarding Maddox the university's Humanitarian Service Award.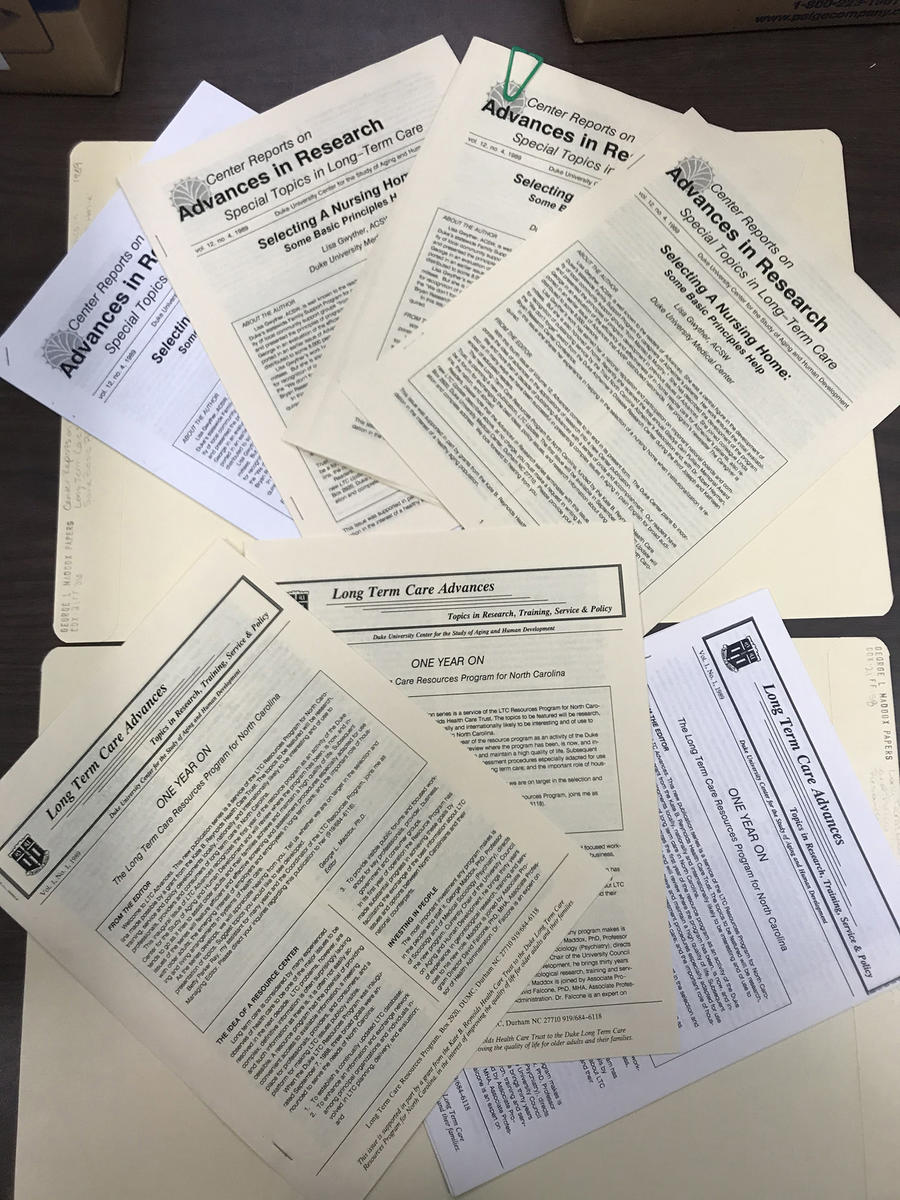 The George L. Maddox Papers contains materials related to the LTRCP, the CPOA, and other significant service projects and grant programs for elder care that Maddox was involved in over the course of his career and after his retirement. Other major subjects covered by this collection include legislation Maddox consulted on, publications he edited and contributed to, research he engaged in and supervised, and the general administration of the Center for the Study of Aging and Human Development. This collection should be of note to researchers interested in studying the history of Duke's Center for the Study of Aging and Human Development, as well as those interested in the general history of senior care and advocacy in the United States.

To learn more about these materials, visit the finding aid or contact the archives staff.
This blog post was contributed by Archives Intern McKenzie Long.