This is Part 4 of a multi part series on oral histories at the Medical Center Archives.
An oral history is an interview that records an individual's personal recollections of the past and historical events. The Dr. David Sabiston Oral History Project was initiated by the Department of Surgery as a way to collect memories from people who knew Dr. David Coston Sabiston Jr., MD (1924-2009) to write a definitive biography.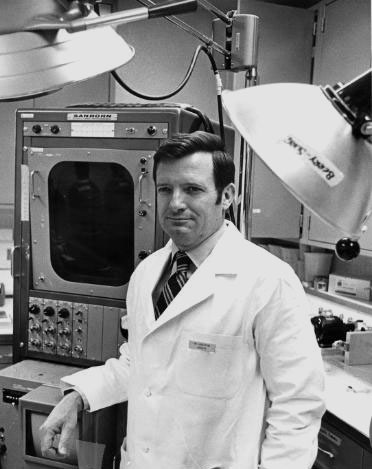 Sabiston came to Duke in 1964 as James B. Duke Professor of Medicine and chairman of the Department of Surgery. These were positions he held until his retirement in 1994. During his 30 year career at Duke, he trained thousands of surgeons and created one of the most respected surgical residency programs in the world. His training programs have been emulated by medical schools around the world. During his tenure at Duke University, he was the principal investigator of a National Institutes of Health (NIH) Grant supporting an Academic Surgical Research Training Program, which supported the Duke Teaching Scholar in Academic Surgery program. While funded from his first research grant from the NIH, a Research Career Development Award, he became the principal investigator of a National Heart Institute grant that was funded continuously for 35 years. 
Prior to coming to Duke, Sabiston, a native of Jacksonville, North Carolina, received his MD from Johns Hopkins School of Medicine in 1947. He completed his surgical residency under Dr. Alfred Blalock at Johns Hopkins Hospital, and, following this, he spent two years as a Captain in the U.S. Army Marine Corps, posted at Walter Reed Medical Center doing cardiovascular research, where he became interested in physiology and pathophysiology of the coronary arteries. After his military service, Sabiston returned to Johns Hopkins as an assistant professor of surgery and an investigator in the Howard Hughes Medical Institute. Within ten years of joining the faculty at Johns Hopkins, he was promoted to professor of surgery.
The majority of Sabiston's research concerned the field of cardiothoracic surgery. He made significant contributions to the understanding of coronary artery blood flow, which led to innovative clinical therapies. He also conducted important studies on pulmonary embolisms and defined many of the mechanisms associated with thrombus formation and lysis and pulmonary injury. 
The Dr. David Sabiston Oral History Project contains over 50 interviews conducted with people who knew and worked with Sabiston both at Duke and outside of Duke. While the oral histories are housed at the Medical Center Archives, the digital transcripts of these interviews are available in MEDSpace, our digital repository.
Select this link
to review the available digital transcripts. If you are interested in learning more about the Dr. David Sabiston Oral History Project or any of our
archival collections
,
contact the Archives staff
. 
This blog post was contributed by Technical Services Head Lucy Waldrop.